the car was purchased about 4 months ago, the swap was finished after much frustration rite after new years 2011
here she is in a time line. so far from where she came from.
After a good wash and some paint, with a little extra WASH!
that was a lot of dirt, didn't know it was pearl until i washed it... wow
THEN... it sat... and sat... and sat...
FINALLY !!!!!!!!
i get the parts, after 4 months i get the final pieces!
z31 drive shaft and s13 clutch pedal!
WTF! that's not rite at all.... FFFFFFFUUUUUUUUUUUUUUUUUUUUU!!!!!!!
well i was off to have the drive shaft customized... DRAT!
well ive got to take this time to mention Doraville drive line and springs. THEY DO GREAT WORK! AND ARE SUPER AFFORDABLE for anyone looking to modify or make a driveshaft THESE CATS ARE AWESOME!
And Zen Motors for allowing me to keep my car lying around and being great with handling my "financial situations". Chris is indeed one of the finest fabricators i have had the pleasure of knowing over the last few years, if its metal HE CAN MAKE IT BETTER AND BETTER!
Here we go step 1, rite before the drive shaft fiasco!
Z31 transmission. Fits GREAT the only mod was on the brass busing for the input shaft on my clutch (just a good ole exedy 1) As chris did that i did this...
EFF YOU MR. AUTO STICK! YOU GO TO HELL AND YOU DIE!
ALMOST!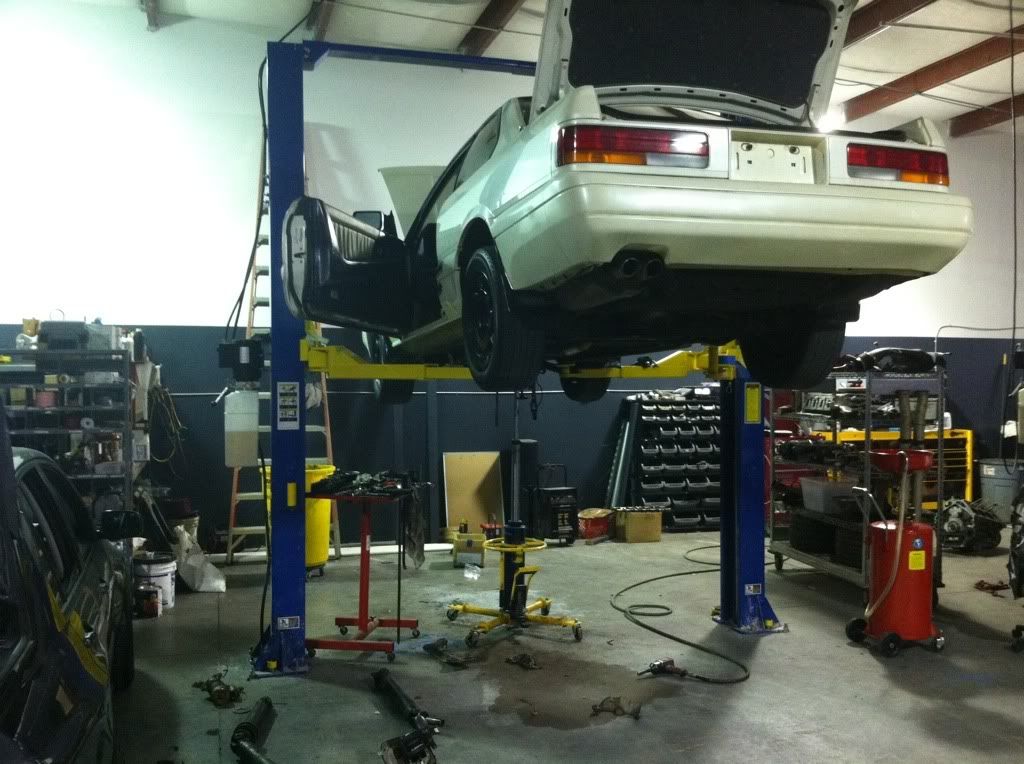 And rite about here is the drive shaft fiasco... so there she sat... blah blah blah.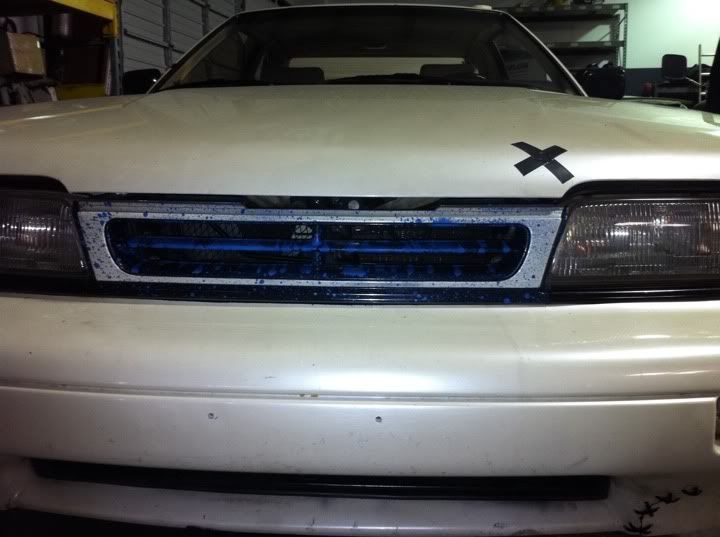 so while i waited i added just a bit of my unique flair, subtle but I'm not going to go ape shit... this will be my MUCH CLEANER PROJECT I PROMISE...
GOT MY NEW MIRROR... gotta say for $20 this is a GREAT INVESTMENT.. i see EVERYTHING ALL CRYSTAL CLEAR AND ITS PRETTY MUCH TITS!
(speedwaymotors.com)
and one from outside.
... OH... Sh@t...
well this was taken after the first heat bending... of cores this isnt recommended to EVER MODIFY A BRAKE PEDAL! u have to, to make this swap work no one should ever modify a pedal by cutting IMO so we went with heating and carbon building the metal.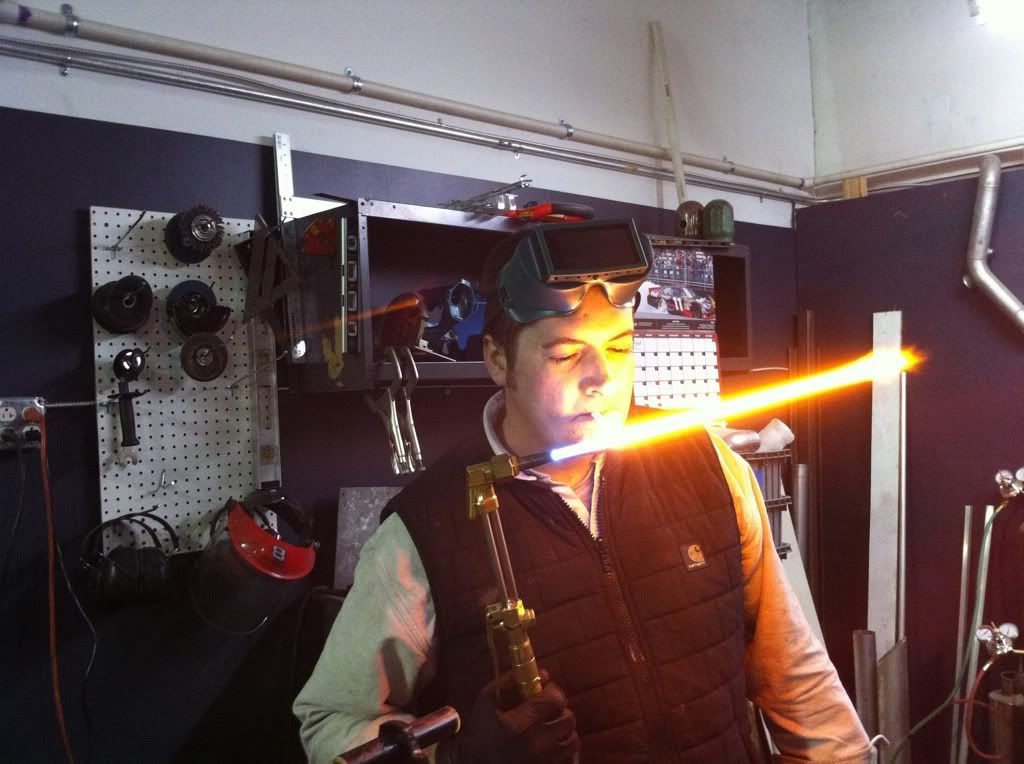 ... so we got back to work! (oh Mr. Parvs! your insane...)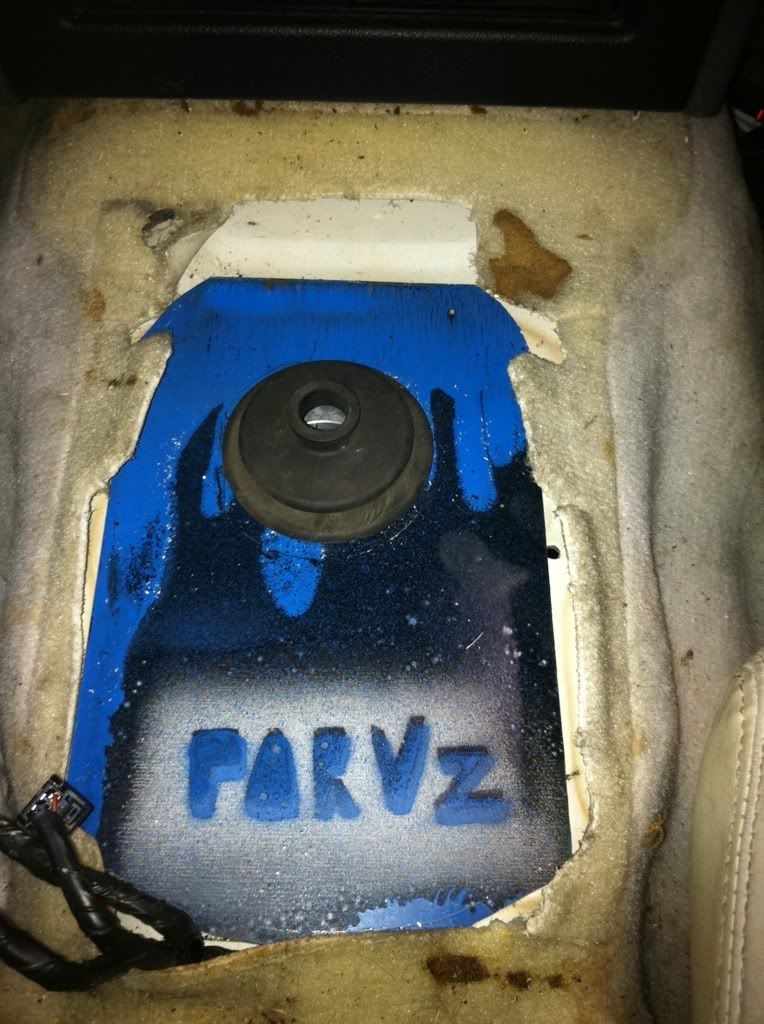 Mr. parvs didn't like my paint splatter so much i put his name on the shifter plate so he is now part of what he hates... kinda twisted?
Then we did all the fluids and the master cylinder...
AAAAAAAAAAAAAAND.
http://www.facebook.com/video/video....27275980&saved
and # 2
http://www.facebook.com/video/video.php?v=475892200980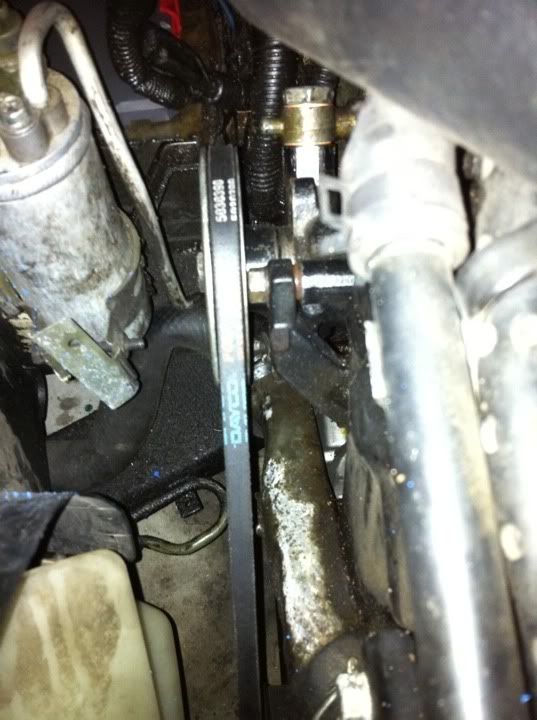 So i put back on the PS pump as it had killed my alternator before from leaks so i had rebuilt it....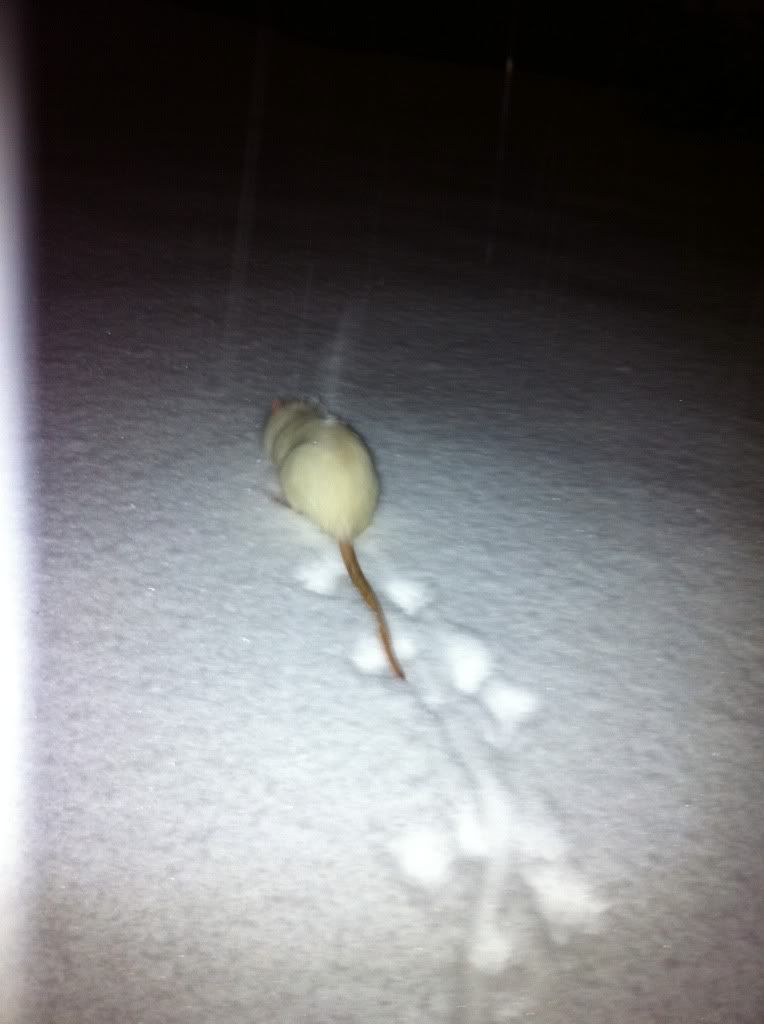 and that very night rite after the pump was on... i open the garage to this... my rat Midi wasn't happy about this either....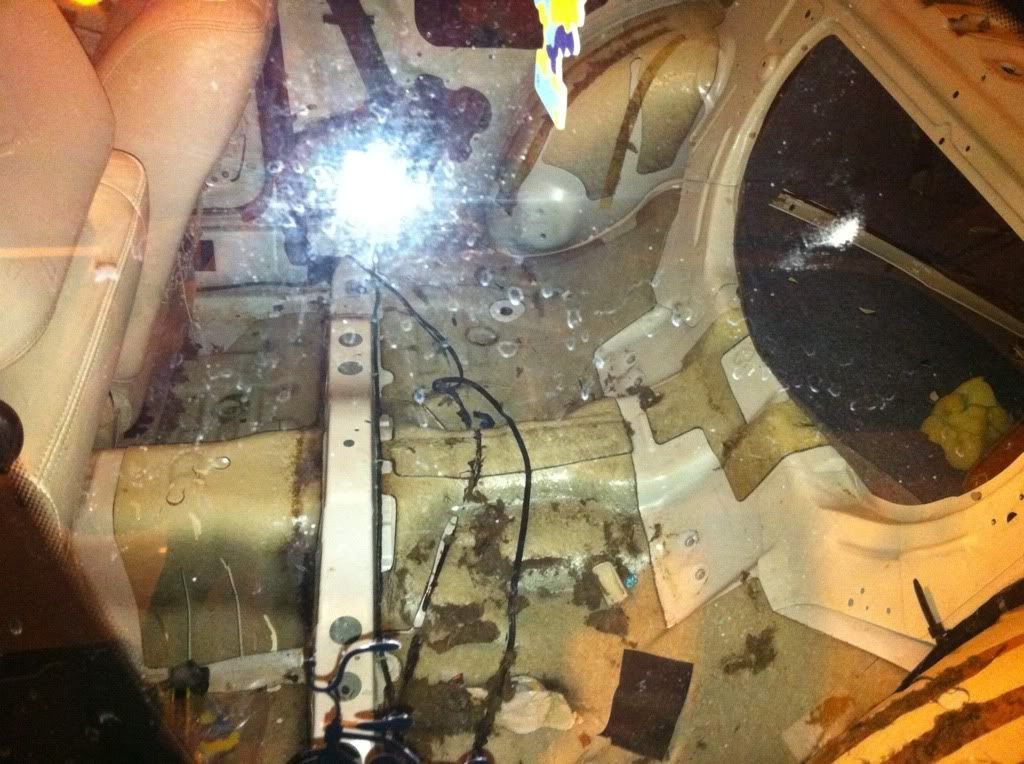 so i decided with being trapped inside id start gutting it...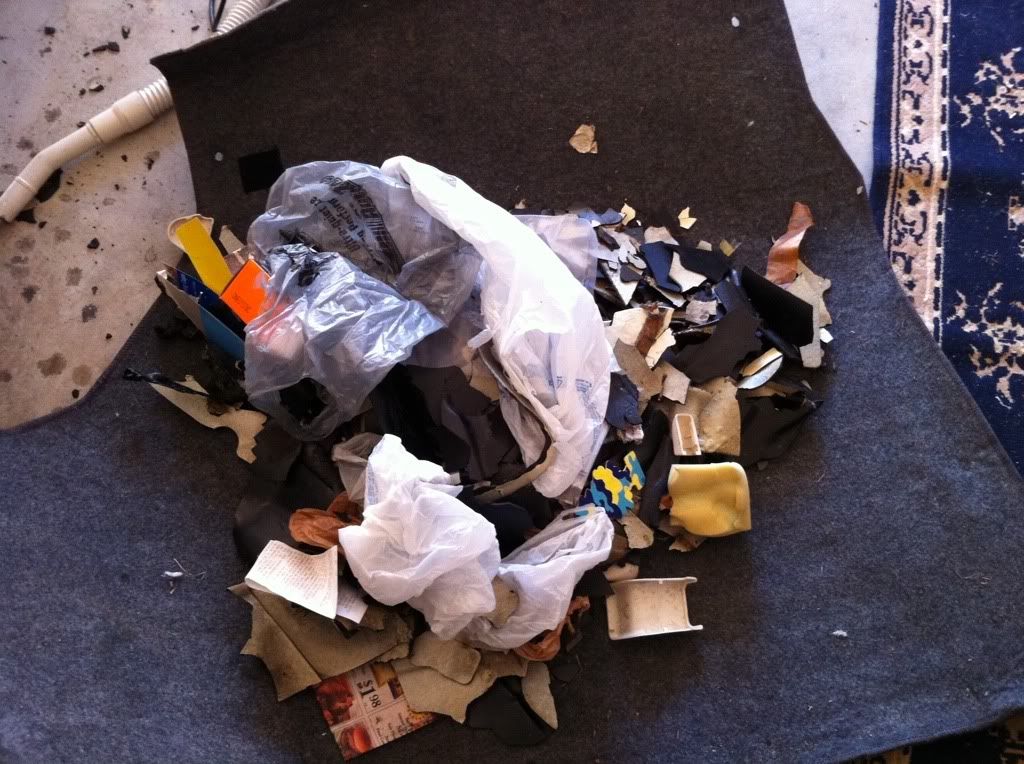 REMOVED THE TAR (sound deadening material)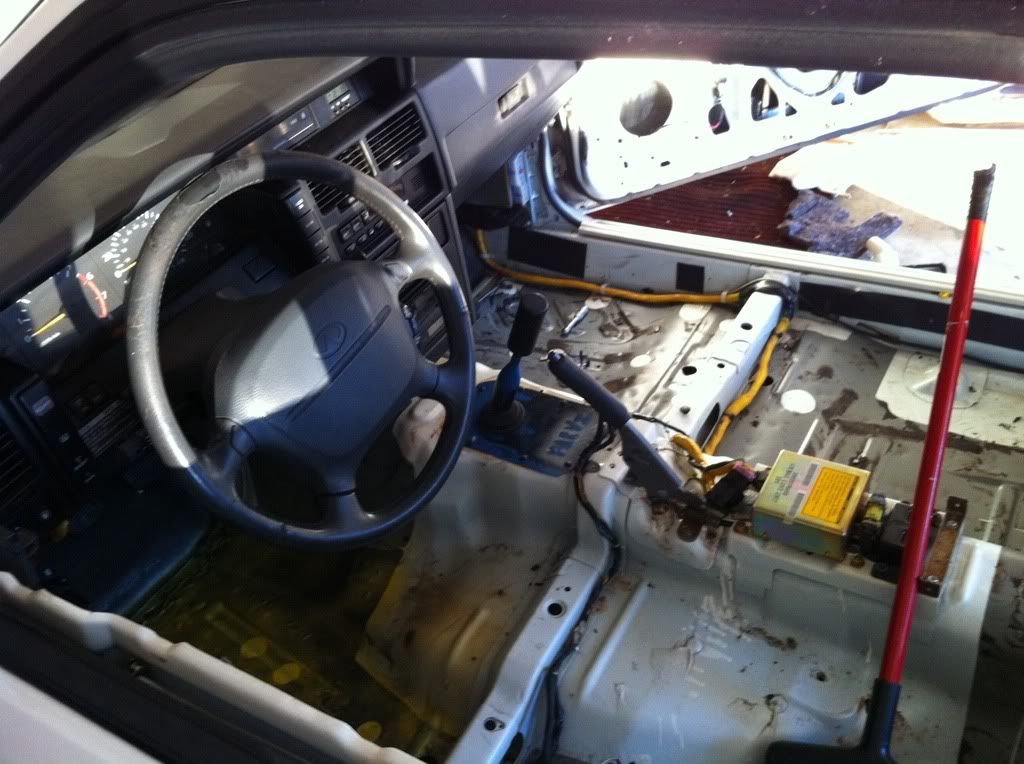 GIGITY...
and here it is next to Mr. Brian's M Dirty.
Now im looking for some coilovers... and saving my $$ for some seats. the 5 lug swap and wheels.
OH BOY!
__________________________________________________ ____________________________________________
1/21/2011
so i did the battery relocation today... surprisingly on a good budget.
16ft of insulated 0G wire from home depot.... (i dont recommend it it like trying to bend re-bar though your car. 16ft of monster cable cost about the same)
battery box and copper terminals from autozone (until i can make a nice aluminum boox this will do)
thanks to my AZ reward card that only cost me .53 YAY!
I'll do a write up on it if anyone's interested.
Test Fit. PERFECT.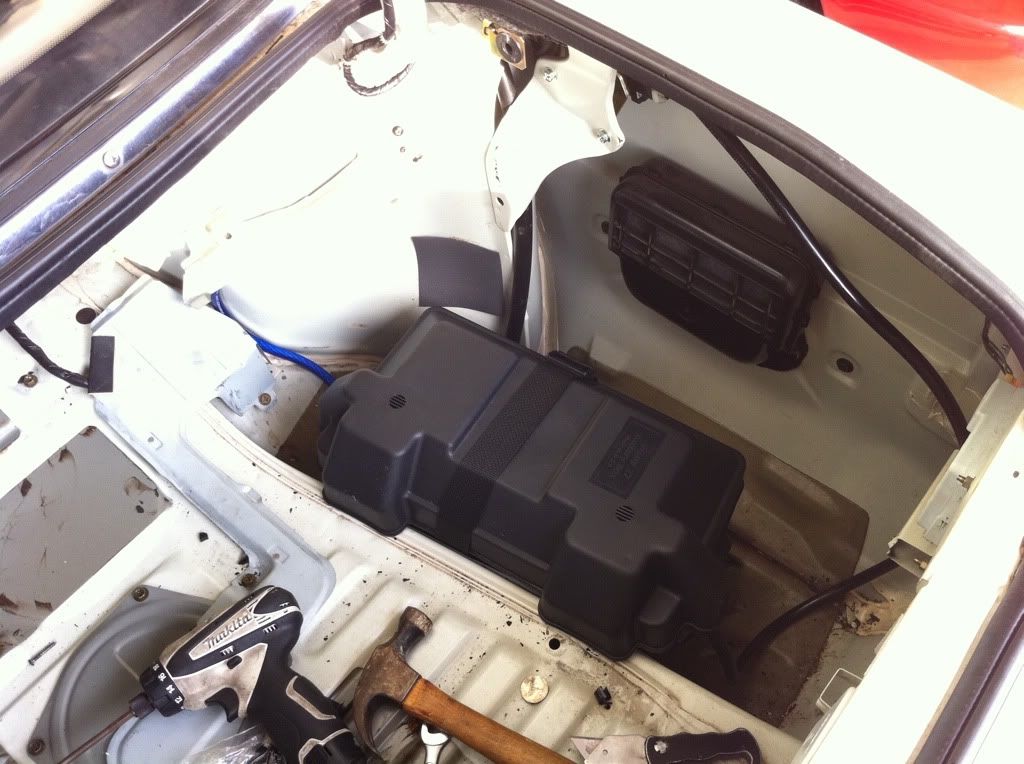 And finished product! im happy with it. and it solved a lot of issues with the grounds and electrical system.
AND ON A SIDE NOTE! looks like ill be getting nice new stance coil overs sooner than later. thanks to an awesome favor from a good friend.
_____________________________________________________________
2-9-2011
So i went to the junk yard today in search of a vg30e fuel pump, started with a 300zx... and someone took the whole tank and assembly. then i remembered there was a vg3 maxima i had seen a few months earlier and had ganked the TPS from. so ii began to tear apart the tank using only a philips head screw driver and a flat head.
i should explain why im replacing this, the car has had a misfire below 3000rps for a while making my low end revs 4 cyl and after 3000 just fine until the pedal is past 25% throttle.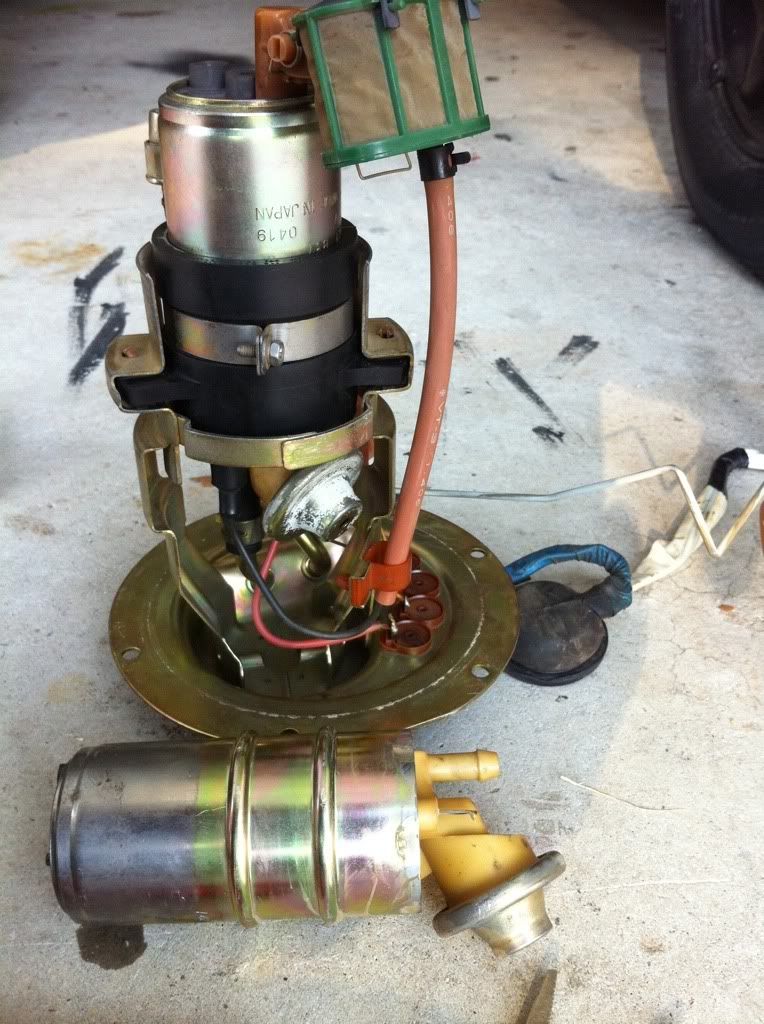 IS THIS NOT THE MOST BULLSHIT ASSEMBLY EVER! WTF NISSAN! LOL!
So after 2hrs of messing with this pos i finally got it swapped out, to no avail at solving the misfire.
on monday i swapped out the spark plugs for some new ones as i hadn't felt the need to replace them because last time i did them almost all of the plugs i noticed were new as i was pulling them.
after swapping them all and changing the wires... this car feels beast.
i noticed a kid in an integra filming me on his pone today (hooray wide angle mirror)
so someone keep any eye out for that video, i got a good launch on green light and the best part is it was all while i was smoking a cigarette HAHAAAA!